Virsae's Service Management Platform is designed to take agent wellbeing and contact center performance to the next level. VSM creates end-to-end visibility and unrivaled insights for IT and management teams to optimize networks, connectivity, audio settings, and working environment.
Virsae + Jabra Solution for Contact Centers
The smartest way to boost agent wellbeing and productivity. Say hello to Virsae + Jabra. We help you turn real-time insights and analytics into high quality agent experiences.
Compliance never sounded so good
Measuring and reporting background noise (with Virsae + Jabra) allows managers to identify the office or home environments with background noise levels that may impact call quality, and customer experiences.
Maintain high quality connections
Using real-time insights into local network and technology performance, including PC and laptop, ISP, Wi-Fi, and Wireless Link Quality (Bluetooth or DECT).
Eliminate cross-talk collision from jittery calls
Troubleshoot connection and device usage issues to eliminate cross or over-talking, causing customer frustration and extended call times.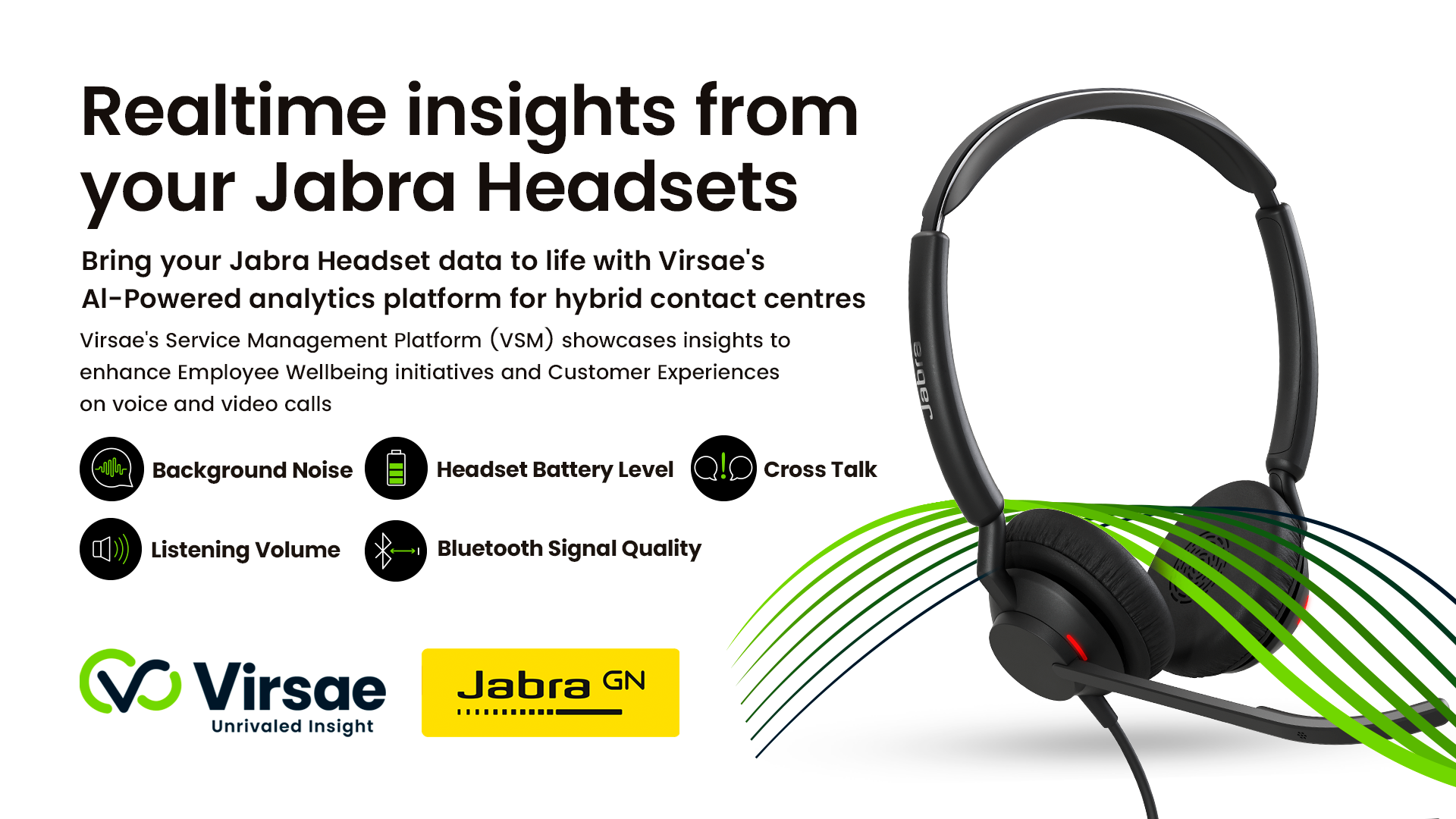 Agent wellbeing in focus
Together, Jabra and Virsae are helping contact center managers to proactively support their remote workforce to maintain healthy workplace practices.
The Virsae + Jabra solution helps to retain and motivate agents by ensuring and documenting a working environment with better audio quality and connectivity, no critical audio exposure, and less environmental noise.
Unrivaled Insights
Jabra headset sensors provide analytics on device, technical, and environmental influences that could impact agent stress and anxiety, and customer experience ratings, directly into Virsae's VSM platform.
Contact center supervisors and managers gain unique insights into device usage, technical, and environmental issues that could impact agent performance and customer experience, all presented on intuitive, at-a-glance dashboards.
Easy to deploy
The integration is included as part of your Virsae monitoring solution. It's enabled for all contact centers, with no development required.
We recommend using Jabra Headsets Engage 50 II, Engage 40, Engage 55 and Engage 75.
Works out of the box with your Virsae solution
Insights into agents' health indicators when using Jabra Engage headsets
Enhances contact center performance
Reduces stress and employee turnover in the contact center